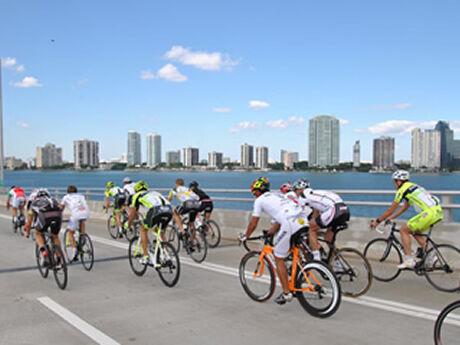 Ciclistas que resultaron heridos o murieron en accidentes causados por conductores en el condado Miami-Dade serán homenajeados durante el evento anual Ride of Silence el miércoles 18 de mayo.
El evento tiene como objetivo concienciar sobre los peligros a los que se enfrentan los ciclistas en la vía pública.
Este será el decimonoveno año de Ride of Silence, que comenzó cuando los defensores de las bicicletas en Estados Unidos, 48 países y siete continentes se reunieron para conmemorar a los ciclistas y recaudar dinero para los heridos en accidentes graves.
El evento gratuito, que se realiza durante el Mes Nacional de la Bicicleta, tiene como objetivo concienciar sobre los derechos que tienen los ciclistas en la vía pública. El condado Miami-Dade se unió a los esfuerzos en 2005 para ayudar a los defensores locales del ciclismo y alentar a los conductores a tener cuidado cuando los ciclistas comparten las mismas carreteras.
El evento del 18 de mayo comenzará a las 6 p.m. en Crandon Park Marina, 4000 Crandon Blvd. La ceremonia contará con discursos de varios funcionarios y defensores del ciclismo, antes del Ride of Silence a las 7 p.m, que consistirá en dos vueltas por Crandon Boulevard a no más de 12 mph en una procesión silenciosa con escolta policial.
En 2003, el ciclista Chris Phelan organizó el primer Ride of Silence en Dallas después de que su amigo Larry Schwartz muriera atropellado por un autobús.
Para obtener más información sobre Silent Ride, comuníquese con Sue Kawalerski, Gerente de Bike305, al (305) 978-2233, o con James Martincak, Oficina del Departamento de Parques, Recreación y Espacios Abiertos del Condado Miami-Dade al (305) 361-2833.